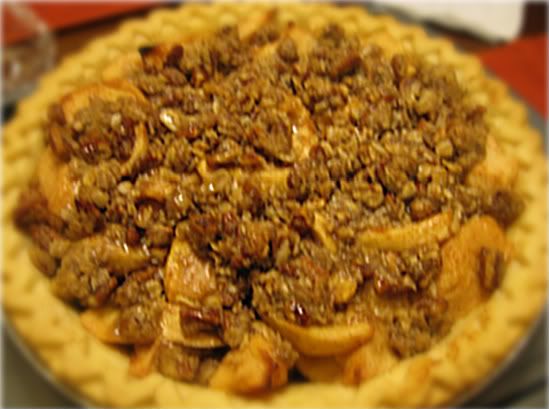 I purchased a gluten free pie crust for this. If you can have gluten you can use a regular pie crust. If you can have gluten you can use 1/4 cup flour in place of the tapioca flour, corn starch, xanthan gum, oats.
1 gluten free deep piecrust (from store) or you can use a gingersnap crust made out of gluten free gingersnaps found here:
http://nannykimsrecipes.blogspot.com/2009/12/ginger-snap-crust-gluten-free.html
For Topping:
1/2 cup chopped nuts
almost 1/4 cup tapioca flour
couple tablespoons of cornstarch
a few pinches of xanthan gum
some gluten free oats (I just added a handful)
3 tab butter
1/4 cup packed brown sugar
1/2 tsp or so of cinnamon
[or for a different topping you can use
or the topping
3/8 of a cup of brown sugar (

ie

1/4 cup plus 1/8 )
a little more than 1/2 tsp cinnamon
2 Tablespoons of Gluten Free Pancake mix (I use Bob's brand or GF Bisquick mix)
2 Tablespoon of smart balance or butter
1/2 to 3/4 cup chopped pecans]
For filling:
1/4 cup granulated sugar
2 tab cornstarch
1/2 tsp cinnamon
3-4 pounds of gala apples (or granny smith or golden delicious)
cored, peeled and cut in 8 wedges
1 tab lemon juice
1. Mix topping ingredients--I just mixed these until a nice consistancy was reached--since I didn't write some of the amounts down--I just mixed until it was a nice consistancy---you work the butter in with your fingertips.
2. Cook the pie crust empty according to the directions until it is golden (I couldn't get this particular crust too golden or it would fall apart--it was gluten free and they can be tempermental.
3. In large microwavable bowl combine the filling ingredients and microwave about 12 minutes , stir it half way through--you want it to be tender (depends on your microwave)
4. Turn oven up to 425--spoon filling into crust and add toppin. Bake 10-12 minutes or until top is golden.