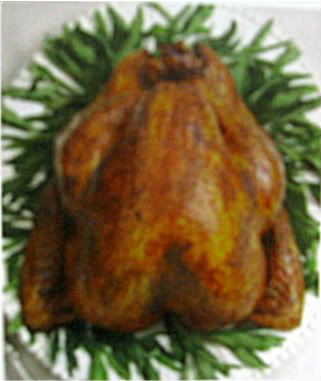 This is a great recipe! I forgot to take a picture but it was fab. This is a blurry picture from Country Living November 2011. I will make this again.NOTE --this takes longer to cook then it says--it takes about as long as a stuffed turkey because of the orange and lime and onion filling the cavity. Here is a picture from this year , 2012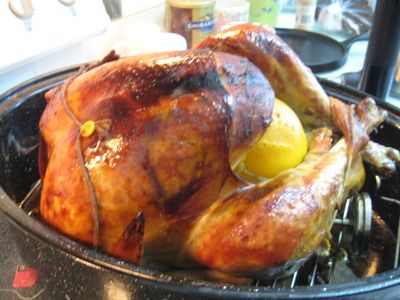 1 (14 pound) turkey, rinsed and patted dry with neck and giblets reserved (I used a Butterball)
1/4 cup coarse salt
1 tablespoon sugar
2 teaspoons of chile powder
1 orange
1 lime
1 small yellow onion, halved
2 bay leaves (I didn't see this and I didn't use it)
3 unpeeled garlic cloves
3/4 cup maple syrup
2 tab molasses
2 tab light brown sugar
1 tab GF Worcestershire sauce
2 cups Bourbon
Butter for foil optional
1/3 cup of flour or if GF use some cornstarch (not as much)
1. Preheat oven 325 F. Tuck wind tips under turkey by bending them back and pushing them under wings. In a small bowl combine, salt, sugar, chili powder. Carefully run your fingers under breast and thigh skin to loosen, then rub meat with about 1/3 of seasoning. Rub remaining seasoning in cavity of turkey and all over skin. Next pierce orange and lime with a fork and stuff citrus in cavity, along with onion , bay leaves and garlic. Using a kitchen string , tie legs together (with the butterball I didn't have to tie since there was skin looped over them holding them together).
2. In a small skillet, stir maple syrup, molasses, brown sugar, and Worcestershire sauce. Bring to a simmer; let cook 5 minutes.
3. Set turkey breast side up in a large roasting pan fitted with a rack. Put turkey neck and giblets in bottom of pan under rack in the pan and add bourbon. Pour all but 1/3 cup of maple-syrup mixture over turkey. Cover pan with lid or buttered aluminum foil. Roast turkey, covered, for 1 hour and thirty minutes.
4. Uncover pan and brush turkey with reserved maple-syrup mixture. Return turkey to oven and continue to roast, uncovered, until an instant-read thermometer inserted into thigh meat registers 165 F, 40- 50 minutes NOTE--It takes longer than this !! More like an extra hour longer than this when I cook it! Lift turkey from pan, allowing any juices in cavity to drain into pan (we failed to let the juices inside run into pan so it may taste different if you do this--it was great just with the pan juices). Transfer turkey to a platter or cutting board. Tent turkey with foil and let rest for 30 minutes.
5. Discard neck and giblets and pour juices from pan into a gravy separator or large measuring cup. Remove fat, reserving 3 tab of fat. If needed add enough water to pan juices to measure 4 cups (I added some chicken broth to the pan juices along with water).
6. Place reserved turkey fat in a large saucepan over low heat. Gradually whisk in flour or corn starch and cook, whisking constantly, until flour has browned, about 5 minutes. Gradually whisk in pan juices (and broth if using and water )and cook whisking constantly, until gravy is creamy and slightly thickened, about ten minutes.