--
My family likes this sweet version best.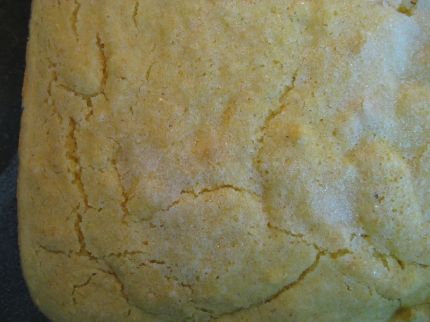 1 cup yellow cornmeal(self rising kind , I use)
1 cup gluten free bisquick mix (or if you can have flour use it)
1/4 cup sugar
3 tsp baking powder (if using self -rising flours you can add just 1 tsp )
1/4 tsp salt
1 egg, lightly beaten
1 cup of soymilk (or regular milk)
1/4 cup vegetable oil
Grease a 9 by 9 by 2 inch pan. In large bown stir together first 5 ingredients. In small bowl stir together remaining ingredients. Stir into cornmeal mixture just until moistened. Turn into prepared pan. I sometimes like to sprinkle a bit of sugar on top as well. Bake in 425 degree oven for 15-20 minutes or until cake tester inserted in center comes out clean. Cut into squares. Makes 6 servings.
As you can see I dug in the middle without a cake tester--that is why it looks so strange!